Sign up to receive "Critic's Notebook" in your inbox every Monday—it only takes a few seconds and it's completely free!
This week: How a train station transformed America, Le Corbusier plays with watercolors, and Jorge Luis Borges talks about English literature.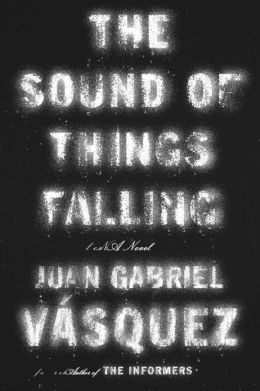 Fiction:The Sound of Things Falling by Juan Gabriel Vásquez, translated by Anne McLean: After reading an article about a hippo that escaped from Pablo Escobar's private zoo, Antonio Yammara is brought back to his youth in Bogotá. Reflecting on the violence wrought by the Medellín cartel and the time he witnessed a friend's murder, Antonio begins to realize the many ways drug violence has shaped his friends, his family, and his country. Antonio sets out on an inspiring journey to learn more about his slain friend.
Nonfiction:Professor Borges: A Course on English Literature by Jorge Luis Borges, translated by Katherine Silver, edited by Martin Arias and Martin Hadis: This compilation of twenty-five lectures, delivered in 1966 at the University of Buenos Aires, traces the history of English literature from the Vikings and Beowulf up to Robert Louis Stevenson and Oscar Wilde. The lectures, allegedly given without any prior preparation, are highly opinionated, entertaining, and accompanied by copious notes.
Poetry:Amy Lowell Anew by Carl Rollyson: Amy Lowell (1874–1925) was a controversial poet. T. S. Eliot called her the "demon saleswoman of poetry" and she was similarly despised by Ezra Pound. Lowell, however, was incredibly influential—a founding member of the Imagist group, awarded the Pulitzer posthumously, and writer of some of the most moving love poetry of the twentieth century. This new biography offers a complete portrait of her—examining her work, her personal life, and her legacy—in a smart reevaluation of a writer who many are too quick to disparage.


Art:Le Corbusier: An Atlas of Modern Landscapes at MOMA: This expansive show, besides providing a detailed history of his architecture, highlights Le Corbusier's work in various media. Those who know only the oppressive, concrete monoliths for which Le Corbusier is famous will be surprised by the vibrant watercolors of his youth, and his work as a founder of Purism—an early response to Cubism. This well-curated show is an insightful study of the artist's life.
Music:UnderScore Friday at Tanglewood (Friday; Lenox, MA): The Tanglewood Festival continues in a program that opens with Strauss's Death and Transfiguration, followed by Lars Vogt on piano, playing Beethoven's fourth piano concerto, and closes with Stéphane Denève conducting Poulenc's Stabat Mater.
Mostly Mozart performs Beethoven's "Pastoral" Symphony (Friday & Saturday; New York, NY): Mostly Mozart will draw from their non-Wolfgang catalogue as Andrew Manze leads them in Beethoven's sixth, and Emanuel Ax plays the second piano concerto.
Other:Grand Central: How a Train Station Transformed America, lecture by Sam Roberts (Wednesday; New York, NY): Sam Roberts, the Urban Affairs Correspondent for The New York Times, will deliver a lecture at the Bryant Park Reading Room commemorating the 100th anniversary of the Grand Central Terminal, and will discuss the station's history, its cultural impact, and its role in urban expansion.
From the archive:Fictions & fabrications in autobiography today by James Tuttleton, March 1990: What separates good autobiographies from the bad? And is it even possible to be objective when writing about oneself?
From our latest issue:Yue Minjun's haunting laughter by Anthony Daniels: Yue Minjun has been speaking out against the Chinese government in his paintings, reappropriating famous works and filling them with unnerving figures, contorted in forced laughter.
A new initiative for discerning readers—and our close friends. Join The New Criterion's Supporters Circle.
Donate